• Mary • Prayer chaplet • Rosary • Sorrows of Mary • Spiritual battle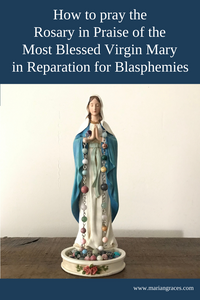 The Rosary in Praise of the Most Blessed Virgin in Reparation for Blasphemies can be prayed using standard Rosary beads. Beginning prayer:Mary, my Immaculate Mother, I desire to offer you reparation for the offenses which your Immaculate Heart receives from the horrible blasphemies which are uttered against you. I offer you these praises to console you for so many ungrateful children who do not love you, and to console the Heart of your Divine Son who is so deeply offended by the insults offered to you. Receive, my Purest Mother, this little act of homage. Make me love...
---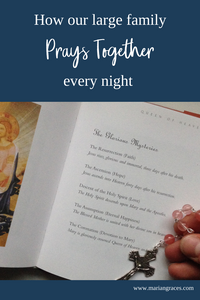 Praying together as a family is hard. Older kids don't feel like joining in, younger kids are hard to keep still, babies cry, parents are ready to collapse at the end of a long day. There are so many excuses we can make. But we all know how important it is to pray together as a family. We neglected this for way too long in our family, but were finally convicted that we had to do this, no matter what. But then we weren't sure where to start. What would work well for all the different ages of children? We...
---
• Mary • Prayer chaplet • Prayers for marriage • Prayers for parenting
We all have knots in our lives - problems and struggles that we cannot see a solution for. No matter how small or large, Mary can help untie these knots. St. Irenaeus made a comparison between Eve and Mary, saying: "Eve, by her disobedience, tied the knot of disgrace for the human race; whereas Mary, by her obedience, undid it". This chaplet is one way to ask Mary, Undoer of Knots, to pray for you and untie the knots in your life that weigh so heavily on your heart. How to pray the Mary Undoer of Knots Chaplet: Holding the...
---
• Blessed Sacrament • Jesus • Prayer chaplet • Spiritual battle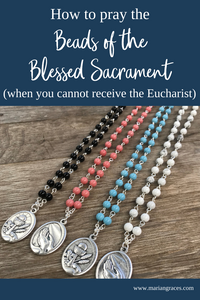 During this time of uncertainty in our world, Catholics are heartbroken that we cannot attend Mass or receive the Eucharist. Many of us are also unable to enter a church and pray before the Tabernacle. Nothing can replace what we are missing, but we are still able to make a Spiritual Communion at this time. One way to do this is to use Beads of the Blessed Sacrament chaplet which have been designed specially for when we are unable to attend Mass or receive the Eucharist due to sickness, disability or other life circumstances. This chaplet was from the Blessed...
---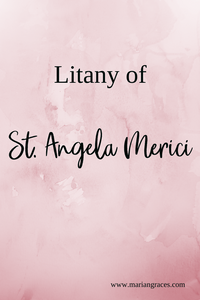 St. Angela Merici is the patron saint of the sick, disabled and physically challenged people and those grieving the loss of parents. Her feast day is January 27. Learn more about her here. Litany of St. Angela Merici(for private use only) Lord, have mercy on us.Christ, have mercy on us.Christ, hear us.Christ, graciously hear us.God the Father of Heaven,Have mercy on us.God the Son, Redeemer of the world,Have mercy on us.God the Holy Spirit,Have mercy on us.Holy Trinity, One God,Have mercy on us. Holy Mary, Mother of God, and faithful guardian of our mother Saint Angela,pray for us.Saint Angela...