• Mary • Prayer chaplet • Rosary • Sorrows of Mary • Spiritual battle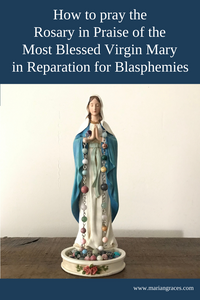 The Rosary in Praise of the Most Blessed Virgin in Reparation for Blasphemies can be prayed using standard Rosary beads. Beginning prayer:Mary, my Immaculate Mother, I desire to offer you reparation for the offenses which your Immaculate Heart receives from the horrible blasphemies which are uttered against you. I offer you these praises to console you for so many ungrateful children who do not love you, and to console the Heart of your Divine Son who is so deeply offended by the insults offered to you. Receive, my Purest Mother, this little act of homage. Make me love...
---
• Rosary
  The Holy Rosary is a Scripture based prayer. The purpose of the Rosary is to contemplate and reflect on stories in the life of Jesus and Mary. The Rosary is made up of five 'decades'. A decade is one Our Father followed by ten Hail Mary's and a Glory Be. During each decade a story (mystery) in the life of Jesus is contemplated to help you grow closer to our Lord. Before praying the rosary, spend some time thinking of your intentions. Our Lady of Fatima requested a daily rosary to obtain peace in our world. Begin with the...
---
• Gift ideas • Pocket Rosary • Prayer chaplet • Rosary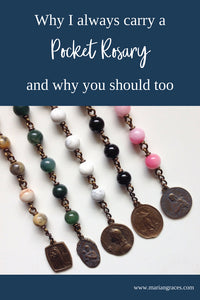 Since becoming Catholic, I have been drawn to the rosary. I have always joked that I made a terrible protestant because I was hopeless at praying. I am not good with words, so my prayers would last less than two minutes, and I would feel guilty that I hadn't prayed properly. I'm just not eloquent enough. The rosary solves this problem for me. I think of my prayer intentions, then pray the rosary, while meditating on the mysteries. My husband and I try to pray the rosary together every night. BUT... I fall asleep. Every. Single. Night. It's actually quite...